You're about to give your customers the engaging, real-time support they really want — and the simple support history you really want.
Activate live chat (Kayako Desktop)
There's only one tool you'll need to download to unlock some of Kayako's most powerful live chat features: Kayako Desktop. Once you install and connect this desktop portal to your helpdesk, you can is begin monitor visitors to your website, handle live chats and calls. It's easy to use and best of all, fast.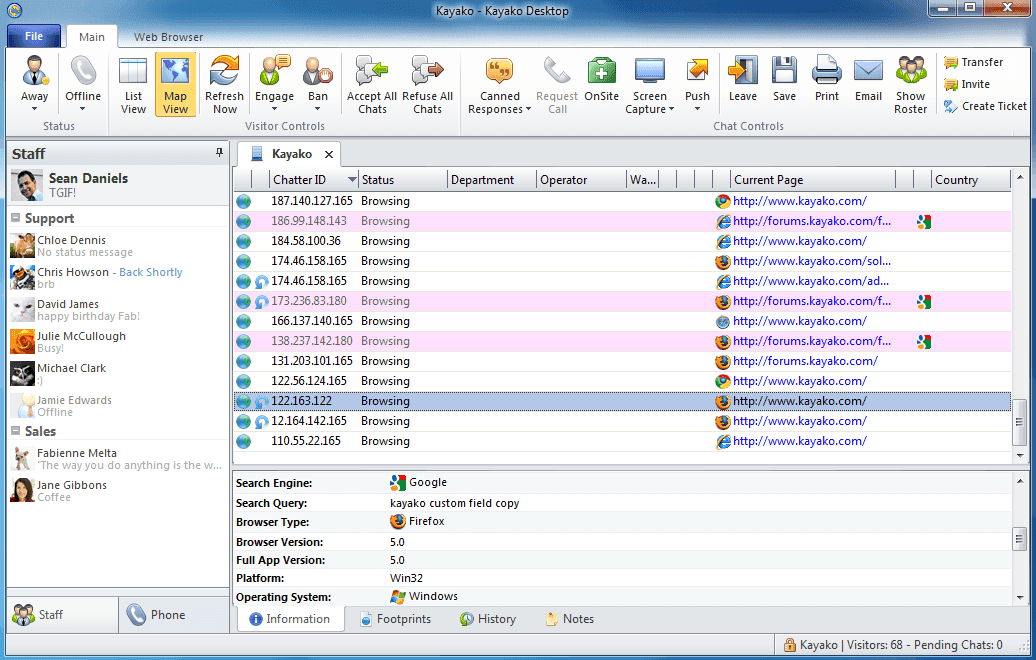 Kayako Desktop will walk you through logging in to your helpdesk with your staff user name and password. Once you're in, visit your support center in your web browser.
You should now see that the live support button now says online.

Click on this button to open a live chat request form. You can try this yourself (you'll be chatting with yourself, of course!).
This is what the chat window looks like for your customers: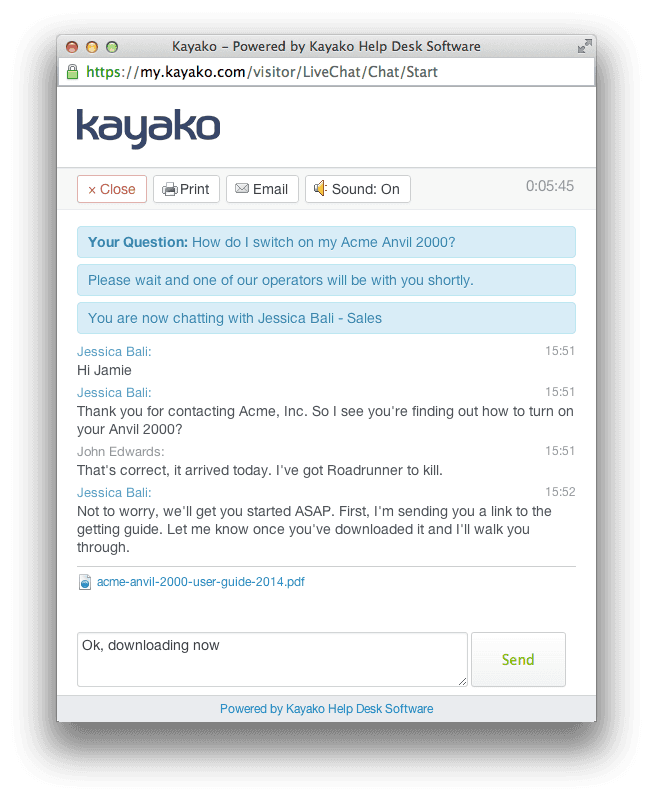 Whether the live support is online or offline is determined by who in your team has set their status to available in Kayako Desktop (check the top-left icon). If no one on your team is available, your customers will be invited to click on the offline live support button and leave a message. 
Put a live support button on your website
Scroll over to the admin control panel and click on Tag Generator on the left-hand menu. Once you walk through these steps, Kayako generates a piece of code that you can insert into the HTML of any of your web pages. Your live support button is ready!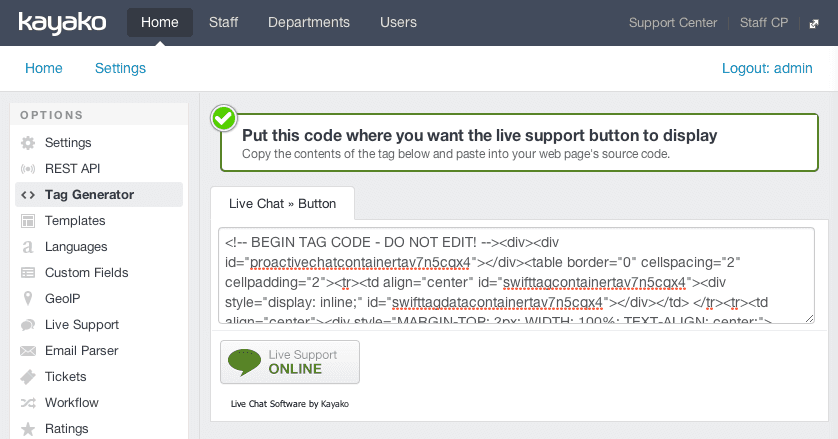 It's up to you to decide what happens when customers click on the live support button. By default, you will be able to monitor visitors on any web page that has the live support button code. This is how you get to access really, really valuable information.
You can see how visitors found your website, which search terms they used and what they have browsed so far. This gives you the opportunity to deliver proactive customer service: whether that is identifying an opportunity to upsell a potential customer, or swooping in to help a first-timer who looks like they could use some help making a decision.
Get started with phone and click-to-call
It gets better. You can connect Kayako with your VoIP provider (like Vonage) and capture every call you have with your customers in their support history. Your team will have instant access to your customer's support history and information including call equipping them to deliver better customer service.  If call recording is enabled, it can be played back from the helpdesk itself.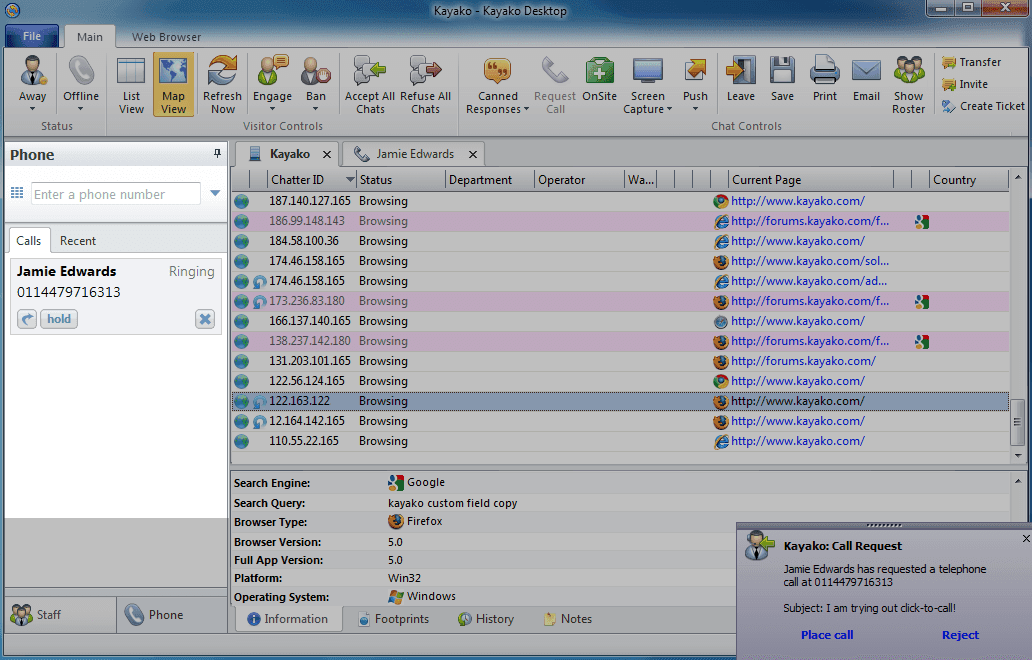 Click-to-call
If you decide to handle calls using Kayako you can create a click-to-call request button.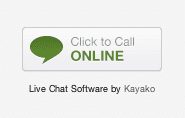 A click-to-call button works like a live chat button, but it's still different. Your customer will be asked for their name, subject and phone number. Your team then receives a click to call request which they can instantly respond to with a call.

If available, Kayako will automatically load the customer's support history. Customer WOW, guaranteed.
Find out more about using Kayako Desktop with your VoIP service.
Browse live support history
All of your customers' live support history - both chats, calls and post-chat satisfaction surveys - can be managed in the staff control panel under the Live Support tab. From here, you can search and filter live support records, add notes and play back call recordings.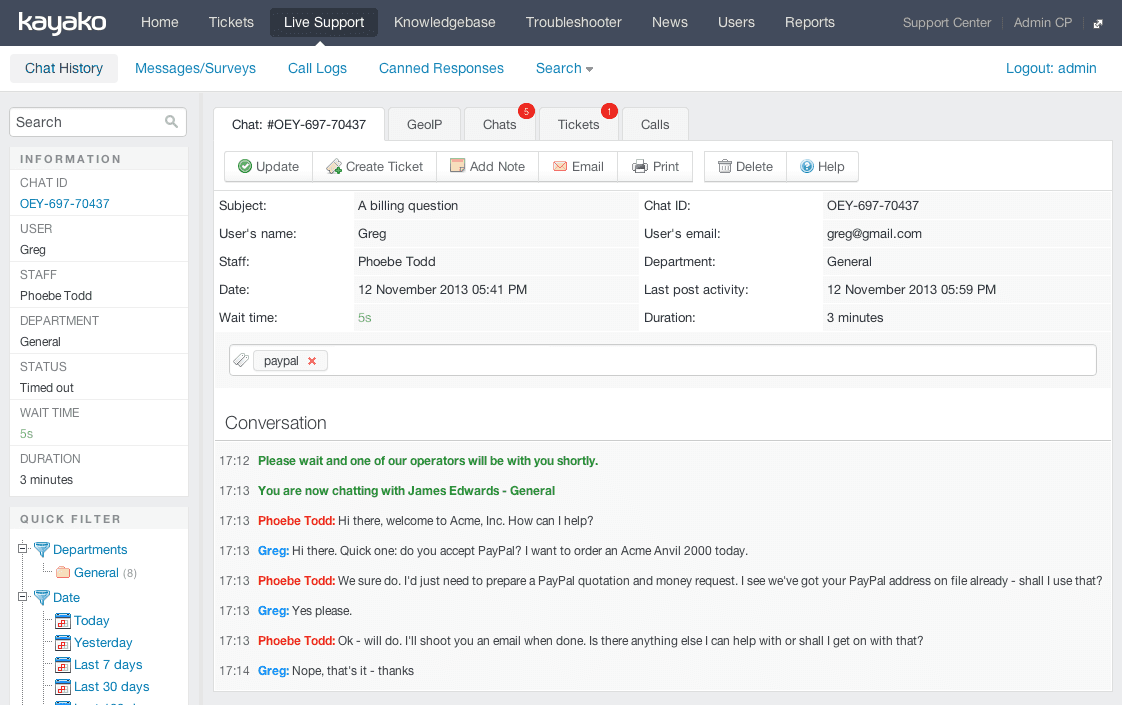 Live chats and calls captured by the helpdesk will be visible under a customer's profile (in the staff control panel under the Users tab) along with any ticket your customer may create in the future. 
Your team is only ever one click away from a complete customer support history.
Connect to the Chat Gateway
The Kayako Chat Gateway is the other tool you use to connect instantly with your customers. The Chat Gateway works with any instant messenger client that supports Jabber. If you're ready to start live chatting on your phone, follow these instructions.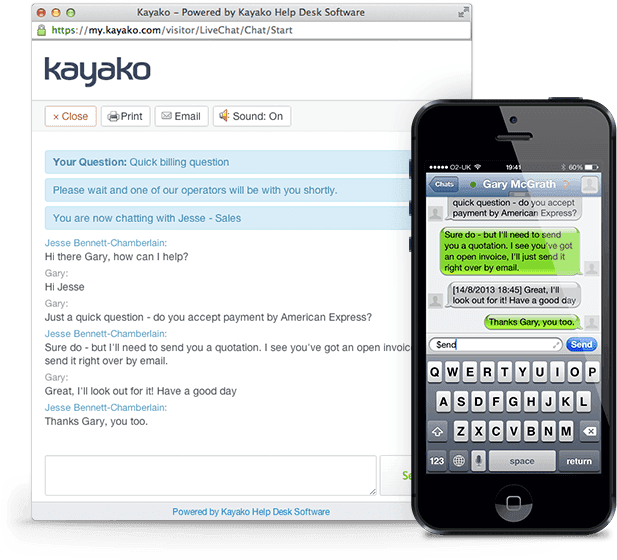 Where to go next